Quetta: Consecutive torrential rains and hailstorm have grappled numerous parts of the province, creating havoc among the people as Provincial Disaster Management Authority (PDMA) issued flash flood warning in various area of Balochistan.
Quetta and other parts of Balochistan received torrential rain and hailstorm on Friday that might triggered low scale flood.
According to Metrological Department Pakistan approximately 47mm rain had been recorded in the provincial capital Quetta and adjacent parts from last 48 hours.
Chief Secretary Balochistan Saifullah Chattha chaired a meeting in Quetta and directed the authority to establish control-rooms in all districts to halt severe damages as flash flood predicted in Balochistan.
PDMA confirmed that, several houses partially damaged in Mastung and adjacent areas but no loss of life was reported in two days rain.
One Balochistan Constabulary soldier died as sky lightening hit the security check-point in Loralai on Friday night.
Fisheries Department issued low scale flood warning in Hub on Friday as the city remained under heavy rain from two days.
Following the widespread rain PDMA issued flood warnings in Kohlu, Barkhan, Khuzdar, Awaran, Mastung, Kalat, Jhal Magsi, Loralai and other area of Balochistan.
Continuous rains created immense trouble for the citizens of Quetta as various roads including Zarghoon road the VIP zone were drowned in sewerage water.
Chief Minister Balochistan Nawab Sanaullah Zehri visited Quetta City two days back and took notice over the worse sewerage condition in the city.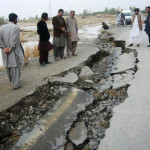 Footage on social media showed Secondary Students in Killi Shekhan School, down town of the provincial capital, were sitting in sewerage water during their SSC exams.
"Whole examination center was drowned in sewerage water that caused an hour delay in our exam," Arbab Shahzad an SSC student said.
"The worse condition distracting us from our paper, we urged the provincial government to take notice and fix the bad sewerage lines,"
Zarghoon road, Jinnah road, Arbab Karam Khan road, Prince road, Quarry road and other roads were picturing as flood hit areas on Thursday and Friday.
Two years back provincial government spent millions on digging new sewerage lines in the city that resulted nothing but more water on roads.
"There is no one to take care of the citizens, hundreds of vehicles being trapped in sewerage water but Metropolitan cooperation isn't functional," Muhammad Nawaz said.