Islamabad: Pakistan District Education Rankings 2016 were launched in a ceremony held in Islamabad, on Tuesday.
Pakistan District Education Rankings are prepared by Alif Ailaan in Collaboration with Sustainable Development Policy Institute (SDPI).
District education rankings are carried out using an education score which is determined by aggregating the scores of each district in terms of access, learning, retention and gender parity.
Islamabad Capital Territory (ICT) is at the top of the rankings with a score of 85.74 points and FR Lakki Marwat is at bottom of rankings with a score of 29.44 points.
Overall education score of Pakistan has fallen by 4.05 points
District education ranking was formally launched by Saman Naz, head of research of Alif Ailaan. She revealed that overall education score of Pakistan has fallen by 4.05 points.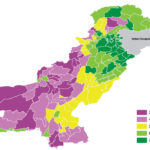 Muhammad Baligh ur Rehman, Minister for Federal Education and Professional Training was the chief guest of the ceremony. He appreciated the launch of District Education rankings and termed it a positive step.
"Availability of authentic data is must for formulation of any successful education plan," said Mr. Rehman.
He complained that media only portrays negative side of the picture related to education and does not highlight the positive steps taken by the government.
He explained that education spending to GDP ratio is low in Pakistan because tax to GDP ratio has decreased in the country.
Federal Minister revealed that annual budgetary allocation for education budgets from both public and NGO sector has reached almost Rs. 775 billion in the ongoing fiscal year.
Islamabad is at the top of the rankings with a score of 85.74 points and FR Lakki Marwat is at bottom with a score of 29.44 points
Mosharraf Zaidai, Campaign Director of Alif Ailaan, delivered a presentation on the state of Sustainable Development Goals (SDGs) in Pakistan.
He announced that online portal of Alif Ailaan will be made accessible for public on this coming Monday which can be used to get data related to  education in Pakistan.
Addressing the ceremony, Executive Director of SDPI Abid Qayyum Sulheri, said that education focused indicators should be part of the forthcoming census whenever it's conducted.
Mian Iftikhar Hussain, General Secretary of Awami National Party (ANP), said in his speech that all reports on education should use authentic data and irresponsible use of inaccurate data should be avoided at all costs.
Jan Achakzai a senior analyst revealed that Balochistan government has decided that no nonsense would be tolerated related to education.
Others who addressed the ceremony included Dr. Arfi Alvi MNA of PTI, Liaqat Shahwani a representative of National Party and Mr. Marc-André Franche Country Director UNDP.
Educationists, Media persons and members of civil society attended the launching ceremony in huge numbers.
Social Media team of Alif Ailan conducted a social media campaign using #RankEd to live report the updates from the ceremony.