Aziz Ahmad Jamali
Education Policy draft is under consideration for approval, priorities are set by Balochistan Education Sector Plan (BESP 2013 – 2018) for the time being. BESP was formulated after exhaustive consultation with stakeholders; it brings out Access & Equity, Governance and Quality as major issues in education sector here.
Education Department, Government of Balochistan, has impressed upon sector reform and intends to achieve more by pursuing an ambitious agenda in best public interest.  BESP and its reform agenda are fully endorsed by all stakeholders; international donor agencies like the World Bank have been chief contributor in sponsoring BESP focus areas. UNICEF has come out as the lead coordinating agency to support modern initiatives towards improving the quality of Education; it's followed by UNESCO and USAID projects.
Balochistan has about 2.8 million children of school age (5 – 9 years). Of this about 1.8 million kids are enrolled in public and private education institutions including those studying in religious seminaries. Estimates for out of school children in the province stand around one million; this implies that we need serious, deliberate efforts to enroll all children in schools to provide them basic education.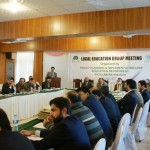 Balochistan Assembly passed the Compulsory Education Act in 2014. Special enrollment campaigns are being arranged since last two years to attract maximum children to schools. During the year 2015, over 100,000 kids were enrolled in government schools across the province in addition to routine enrollment of 240,000; the figure reached 195,000 in 2016. UNICEF has been a significant contributor in promoting and sponsoring various activities relating enrollment campaigns.
Increased enrollment has put significant pressure upon the Government to enhance capacity of schools. Therefore, Education Department has preferred a policy of consolidation i.e. improving the facilities in existing schools than outright construction of new schools. Consolidation is imperative to ensure retention of students in educational institutions. Public pressure has also compelled teachers in Balochistan to be more diligent in their duties in schools. Real Time School Monitoring System, in pilot phase at the moment, offers crucial support to Education Department in this regard.
Global Partnership for Education (GPE) has launched a project in Balochistan with the objective to increase access to schools and equity in schooling. The Project will establish 725 new primary schools, upgrade 120 existing schools and introduce gender free education in three years (2016 – 2018). GPE is expected to reduce significant gaps in access and equity in Balochistan. Similarly, the European Union (EU) has recently approved a grant of 20 million Euros to address access and quality of Education in Balochistan.
Provision of quality education warrants serious improvement in assessment system, revision of curriculum & textbooks and continuous professional development of teachers. Education Department has arranged for capacity building of 500 education managers and training of 10,000 teachers; the plan is sponsored by Canadian International Development Agency (CIDA).
Balochistan Examination and Assessment Commission (BEAC) has been constituted by the Government. It has begun functioning with the conduct of 5th and 8th grade exams so that diagnostic and summative assessment(s) may be introduced in Balochistan. Restructuring of the Board of Secondary Education and Provincial Institute of Teacher Education (PITE) is also on the cards.
Balochistan Education Sector Plan (BESP 2013 – 2018) provides for establishing Early Childhood Education (ECE) Centers in primary schools across the province. At least 100 ECE Centers were approved for construction during the fiscal year 2015-16. The number is likely to increase in next year. ECE Rooms enable teachers to focus on specific needs and ways of teaching for smaller kids in schools.
A number of innovations are being practiced in Balochistan to introduce and improve reading skills of kids in early schooling age. USAID's Pakistan Reading Project (PRP) is working since 2013 to inculcate phonetics and reading skills among children of class 2 and 3. Its outreach includes eleven districts of the province and will be expanded to cover six more districts. PRP also intends to promote teaching in local languages in Balochistan.
Higher and Technical Education forms an essential ingredient of the Balochistan Education Sector Plan. As a foremost strategy, Government of Balochistan has initiated 4-year Bachelor's degree in four colleges. Higher Education Department is also working on strengthening governance and management to improve internal efficiency.
Balochistan's TVET Policy draft is prepared; it will pave the way for linking technical & vocational trainings with avenues of employment in the market.
Pakistan is a country with largest proportion of young population. Therefore it's imperative to specifically engage the youth in positive activities and employment. Currently, ideas are under consideration to attract less educated adults/youth towards technical skill building so as to make them positive contributors in society. Balochistan Rural Support Program (BRSP) is running a pilot project in this regard at Quetta, the capital district of Balochistan.
Government of Balochistan has recently realized that schooling facilities are unnecessarily restricted, and education services lopsided, as only 2500 of total 10,000 primary schools are built for girls; these ought to be enhanced as girls constitute a greater proportion of the total population. With this intention, all primary schools have been declared gender free since March 2016; it implies that henceforth all students of primary classes are free to avail education facility/school whether it's a boy's school or girl's school. This decision calls for a huge social mobilization effort for implementation in letter and spirit.
Department of Literacy in Social Welfare Department runs schools for persons with disabilities. This system needs reform/upgrade so that most schools of the province offer education facilities for the vulnerable; it also warrants designing buildings that are accessible to persons with disabilities. Similarly, innovation is required in designing education facilities that cater for indigenous people and children in vulnerable situations.
Balochistan Education Sector Plan identifies following strategies to achieve the above target especially alternative learning pathways (ALP):
Develop a policy framework for literacy and ALP sector at provincial level (draft is ready);
Greater focus on adolescent and youth literacy (202 ALP Centers are functioning in Balochistan); and
Improve the current teaching learning material on literacy.
Japan International Cooperation Agency (JICA) has initiated its project Advanced Quality Achievement Learning (AQAL) with Government of Balochistan; it aims to conduct a census for Non-Formal Education Management Information System (NEMIS) and address Non-formal Education in the province in a holistic manner so that it complements the formal education sector.
Education policy of Balochistan aims to be the driver of local aspirations of its people with a view to enable them compete with rest of the world; it include promotion of peace & development and respect for cultural diversity. Once approved from the Provincial Cabinet, the policy will enable specific plans to promote sustainable lifestyles around.
Presently, at early education level, Interactive Radio Instruction (IRI) is an initiative where Government of Balochistan has agreed with Power 99 Radio Islamabad to interact with small children through radio.
Children's Global Network (CGN) has signed MoU with Balochistan Education Department in April 2016. They will orient the children of primary classes, via storytelling, on civic responsibilities and how to become useful citizens.
SDG-4 Implementation Strategies
SDG-4 warrants the nations to build and upgrade education facilities that are child, disability and gender sensitive and provide safe, nonviolent, inclusive and effective learning environments for all.
Government of Balochistan is committed to pursue a development policy which enables child friendly schooling; it also implies serious governance reform in Education Department with which we have just begun.
Global Agenda aims to expand the number of scholarships available to developing countries, in particular least developed countries, developing states, for enrolment in higher education, including vocational training and information and communications technology, technical, engineering and scientific programs.
Government of Balochistan has established Education Endowment Fund of five billion rupees to provide scholarships to better performing students at school, college and university level. So far it has disbursed stipends to 5000 students; this is likely to increase four times in near future.
Education Department has established more than 100 IT Labs in schools; it will be gradually enhanced to include all 900 High Schools of Balochistan. A project of E-learning has been recently approved; it aims to telecast science lectures in far flung districts using projectors and other modern technology.
Balochistan's Education Management Information System (EMIS) is being used for informed decision making in development planning while Real Time System has been launched for School Monitoring in an effective manner.
It is imperative to increase the supply of qualified teachers through international cooperation for teacher training in developing countries, especially least developed countries.
Currently, a program for capacity building of 10,000 teachers is in progress in all districts of Balochistan. Education Department believes in continuous and extensive professional development of educators and education managers. Specific allocations would be made in forthcoming budget(s) to cater for this crucial requirement upon which hinges the provision of quality education.
While one may call the global education agenda as too ambitious to achieve, it seems very much possible if pursued with requisite policy direction and true resolve. Since Balochistan's sector reform progress, and concomitant political will, have been appreciated all over the globe, it has every reason to stand at an honorable position among other provinces of Pakistan and in the world's pace of progress.
Writer is Additional Secretary (Development) Education, Government of Balochistan.