Team Balochistan Voices, wishes all of its readers a very happy and blissful Eid-ul-fitr Mubarak.
We believe that in life we get limited occasions for celebration and Eid-ul-Fitr is one of them. We need to enjoy it with our family and friends as much as we can.
At the same time we must not forget the under-privileged sections of our society who are deprived of the joys of Eid. We need to do all that we can in our capacity to support the deprived people because our social security systems have failed to help them out.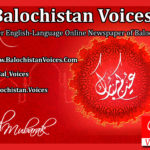 Balochistan believes on freedom of expression and raising voice for the problems in the society. We believe that by highlighting those problems we can play our part in solving them. We need to the help and support of the volunteers from across the province to help us in this process of highlighting the socio-economic problems of Balochistan.
Balochistan Voices thrives on the support of the readers. We hope that on the joyful day of Eid ul fitr, You will reiterate your support to Balochistan as you all have been doing since its launch on 20th February.
Our Team wishes you all the best in your endeavors and hope that happiness and joy in your life is long lasting. We hope that you will excel in your respective fields and careers and be success stories.

Editor
Balochistan Voices