Quetta: Birthday of Rubina Ibrahim Zehri, Social Media Ambassador of Balochistan Voices, was celebrated on social media by wide range of people, on Tuesday.
5th July is the birthday of Rubina Ibrahim Zehri and twitter users used the hashtag #HBDRubi to wish Happy Birthday to her.
Rubina Ibrahim Zehri has more than 22,700 followers on twitter and that are the highest number of Twitter followers among the genuine users who are based in Balochistan.
Rubina has served as Cultural Host of PTV Bolan from 2009 to 2015 and she is on a career break from the TV at the moment.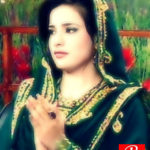 Rubina has hosted wide range of programs on PTV Bolan including Morning Shows, Night shows, Kids shows, Current affair shows, Eid Shows, Sunday transmissions and special combined transmissions and so on.
She was among the pioneers of morning TV programs on PTV Bolan and hosted those programs for 3 years.
Rubina Ibrahim Zehri has been the Social Media ambassador of Balochistan Voices from the outset.
She has led and actively participated in different twitter campaign launched by Balochistan Voices including #BalochistanBudget, #RIPAngelsofSBK and launching campaign of #BalochistanVoices.
Recently, Twitter account of Rubina was hacked for a brief period but it was later recovered with the help of supporters.