Adnan Aamir
Kamal Siddiqi is current Director of Centre for Excellence in Journalism (CEJ). He has served as the editor of Express Tribune from 2009-16. Prior to that, He was an editor at The News International and a member of the editorial board at Dawn. He has also taught journalism at Monash University in Australia. Mr. Siddiqi has authored two books; "The Internet Journalist" a book on online journalism for media students and "Journos on Journalism," a book on the practice of journalism.
Balochistan Voices conducted an exclusive interview with Kamal Siddiqi last month which is as follows:
Balochistan Voices:

You have served as editor of a leading English national newspaper. In that capacity can you tell us that why national newspapers ignore Balochistan?
Kamal Siddiqi: They do not ignore. There are certain things that we can't report on because if we do then it will create problems for our reporters who are based in Balochistan. On one side militants want us to report and on the other the government does not want us to report. In Balochistan journalists have been attacked for reporting different things and Chief Justice of the province had once said that if you report on certain issues then I will send you to prison. Situation for journalism in Balochistan is very difficult and complicated. Our priority is the safety of our reporters. When we feel that a story will endanger the life of our reporter then we ask him not to do that story. So, we do not ignore Balochistan.
In Balochistan a lot of journalists have lost their lives in line of duty. Do you think that the situation has improved or it's the same as before?
I think the situation is very unpredictable. There has been some improvement but still it's very difficult for the journalists to work. Overall it's very difficult for journalists to work in Pakistan not just in Balochistan.
In Express Tribune for one print reader there are 15 online readers – Kamal Siddiqi
There is a rising trend of online newspapers in Pakistan and print newspapers also actively manage their web editions. Do you think that online media will replace print newspapers in future in Pakistan?
In Express Tribune the ratio of Print to Online readers is 1 to 15. This means that for one print reader there are 15 online readers. So, there is a lot of scope for online journalism in Pakistan. One area where online journalism has not developed is revenue. Unlike the print newspapers online news media can't get sufficient advertisement revenue. That's why both print and electronic media will go together, with the passage of time print will reduce in size because people read newspapers less and read more news on their Smartphones and share them. So, people are reading news but in a different way and online journalism has played a huge role in that.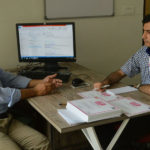 In next 5 to 6 years visible changes will appear in journalism paradigm. These days print newspapers do not deploy resources to employ reporters or people on desk but for online editions they hire more employees. This shows the news organizations are spending more on web as compared to the print.
Can online newspapers and wed editions of newspapers cover their costs at the moment?
I don't thinks so. Covering the costs is just one aspect of the newspapers. Let's take the example of the news channels that can't cover their costs and earn in the form of cross subsidies. At the moment, print covers the cost of web editions to a great extent but a time will come when this will change.
At the moment, print covers the cost of web editions to a great extent but a time will come when this will change – Kamal Siddiqi
You have recently assumed charge as Director of CEJ. What are the goals of CEJ and what it plans to contribute in Journalism in Pakistan?
At CEJ we offer training courses for the working journalists. These training programs will continue even when the grant to the centre ends next year. IBA will introduce Masters in Journalism in Pakistan next year and the facilities of CEJ will be used for that. This will be the only institute which will offer Master's Degree in Journalism. Other institutes offer degrees in Mass Communications and Media Studies but not in Journalism. So, this will be our contribution.
As a former Editor and Director of CEJ, what advice will you offer to aspiring students who want to pursue journalism as a career?
I advise them to pursue journalism as a career. Only those students should pursue journalism as a career who have a passion for it. If they do not have passion for journalism then they should not choose it as a career.
Journalism does not pay well, it only compensates in other forms – Kamal Siddiqi
Secondly, they also need to understand that journalism does not pay well, it only compensates in other forms. Journalists get more chances for scholarships, foreign visits, training programs and other facilities in Pakistan, but the salaries of the journalists have always been low. If one has the passion to highlight different issues of Pakistan then they should join this field. If someone wants to join journalism for making money then He or She will be disappointed.
Photo credits: Saeed Hussain
Disclaimer: Views expressed in this interview are those of the interviewee and Balochistan Voices not necessarily agrees with them.