Adnan Aamir
Quetta: Social media activists of Balochistan Social Media Forum (BSMF) highlighted the talent of Muhammad Baloch who is a budding singer from Panjgur district of Balochistan.
Mohammad Baloch started singing in 2013 and since then he has been an active amateur singer and now wants to make a professional entry with his first album Sajda.
Activists of BSMF carried out a campaign for Muhammad Baloch on Saturday night using the hashtag #EncourageMBaloch.
Rubina Ibrahim Zehri, Social Media Manager of Balochistan Voices, led the campaign.
Thousands of people participated in the campaign and hundreds of thousands of twitter user witnessed the tweets in support of Muhammad Baloch.
If you can make someone like momina superstar then dont ignore talent of balochistan lets support Mohammad baloch  #EncourageMBaloch

— Mariam Jamali (@Mariam_Jamali) January 29, 2017
 Focus of the campaign was to bring the case of Muhammad Baloch to the attention of government of Balochistan and Coke Studio.
Spokesman of Government of Balochistan, Anwaar ul Haq Kakar, took notice of the issue and promised to raise it on relevant forums.
@zehriRubina I will see to it and will raise the issue at appropriate forums.

— Anwaar ul Haq Kakar (@anwaar_kakar) January 29, 2017
 In a matter of just few minutes, #EncourageMBaloch become the top trend in all of Pakistan,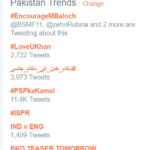 At the end of twitter campaign, Rubina Ibrahim Zehri called off the twitter campaign.
On behalf of @BSMF11 I call-off the twitter campaign for #EncourageMBaloch, Thanks everyone for make it number one topic in #Pakistan

— Rubina Ibrahim Zehri (@zehriRubina) January 29, 2017