Adnan Aamir
Quetta: First anniversary of Balochistan Voices online newspaper was celebrated o twitter by supporters using the hashtag #1YearofBalochistanVoices.
Balochistan Voices was launched on 20th February 2016 and first anniversary of the online newspaper was celebrated today.
During the course of its first year of operation, Balochistan Voices published more than one thousand articles of different type including over 500 news stories and more than 300 opinion articles.
Twitter campaign was joined by hundreds of activists around the country which made #1YearofBalochistanVoices as the number one trend in Pakistan on twitter.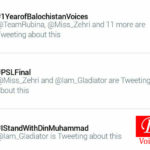 Twitter users appreciated the work of Balochistan Voices and supported its contribution for the independent media in Pakistan.
A formal program to celebrate first anniversary of Balochistan Voices will be conducted in Quetta on Friday, 24th February.
People from different backgrounds appreciated the work of Balochistan Voices.
#1YearofBalochistanVoices congratulations @iAdnanAamir u doing a great job

— Sarfraz Bugti (@PakSarfrazbugti) February 20, 2017
All the best @Bal_Voices @iAdnanAamir and keep it up the good work

— Jan Achakzai (@Jan_Achakzai) February 20, 2017
@Bal_Voices wish you all the best Balochistan voices and adnan amir

— Anwaar ul Haq Kakar (@anwaar_kakar) February 20, 2017
Congratulations to Balochistan Voices for an year of successful operation. #1YearofBalochistanVoices

— Dawood Khan (@_dawoodkhan) February 20, 2017
Support @Bal_Voices in 3 ways:
1) Writing for us
2) Sharing our content on social media
3) Donating for our cause#1YearofBalochistanVoices

— Balochistan Voices (@Bal_Voices) February 20, 2017
At the end of the campaign, Rubina Ibrahim Zehri, Social Media Manager of Balochistan Voices, called off the campaign.
As Social Media Manager of @Bal_Voices I call off the twitter campaign for #1YearofBalochistanVoices – Thank you everyone!

— Rubina Ibrahim Zehri (@TeamRubina) February 20, 2017
The topic was still trending long after the campaign was called off.
⒈ #LQvIU
⒉ Shadab
⒊ #1YearofBalochistanVoices
⒋ Misbah
⒌ #ResponsibleNewsReporting

2017/2/20 22:36 PKT #trndnl https://t.co/V71IHDvL8r

— Trendinalia Pakistan (@trendinaliaPK) February 20, 2017