Quetta: The screening of 5th round of 60 Second International Film Festival (60SIFF) was held in Quetta on 21st and 22nd April at Officers Club and Hazara Town, respectively.
The event marked the screening of films received through the public call for film submissions and the Dil Say Pakistan Film Competition.
The theme for this year's 60SIFF focused on celebrating the colours of your country, in an effort to recognize and celebrate the local heroes, historical landmarks, education and interfaith harmony. This year, Dil Say Pakistan Film Competition was also held on the theme of 'Unsung Heroes' which collected a number of films from the budding filmmakers from all over Pakistan.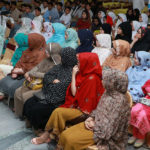 Speaking about the success of the 5th round of 60 Second Intternational Film Festival, Abrar Ul Hassan (Festival Director) said that, "Every year, we try to engage the masses in a constructive activity of storytelling and filmmaking, to build discourses based on thematic films of 60 seconds, which have eminent value in promoting the culture, art and most importantly, global ties."
While sharing her experience Rani Wahidi hailing from Quetta won second prize in Izhar By Films said, women filmmaker are taking bold steps and highlighting their issue relating to harassment, "My film based on women harassment on public place won prize in this competition so now time has come that women of Balochistan should express their feelings through films."