Masmoom Shahwani
Quetta: Whereas the world is gearing towards popularizing the wheel-chair sporting activities for the persons with disabilities, Balochistan has not been able to provide them accessible infrastructure to make their lives inclusive in the social activities.
It was perhaps the most detailed and comprehensive document passed by United Nations in the 21st century that incorporates the details of the persons with disabilities.
The said convention on the Rights of Persons with Disabilities (CRPD) and its Optional Protocol (OP) were adopted on 13th December 2006 and entered into force on 3rd May, 2008. Pakistan become the signatory of the document in the same year and but it took Pakistan five years to ratify the convention.
Article (3) of the document states: Full and effective participation and inclusion in society for persons with disabilities shall be ensured by member states along with equal opportunities to life and accessibility to all the essentials of life that a nondisabled person can otherwise use.
Riaz Baloch, who is working with disability movement since 2005 and has represented Pakistan on many national and international forums in special persons' rights advocacy seminar, talking to Balochistan Voices He says that the disabled person would once were supported with charity based funds worldwide but during 1980s a new concept of rehabilitation came to fore to avoid permanent dependence on the part of special persons. He says that disability is generally categorized into four kinds: Physical disability, deaf and dumb, and mentally retarded people that are further divided into several other sub kinds.
Among many other causes, lack of nutrition to pregnant mothers is also one of the causes of disability among children in Balochistan – Riaz Baloch
"Among many other causes, lack of nutrition to pregnant mothers is also one of the causes of disability among children in Balochistan," says Riaz Baloch, adding that even contaminated water is becoming a cause of disability in Naseerabad division, leading to blindness.
The most recent concept to support disabled persons, adds Riaz Baloch, is the concept of inclusion worldwide, adding this concept brings a paradigm shift from the body special person to infrastructure in the society, making it accessible for the special persons.
Many physical disabilities, especially among women, lead to mental retardation.
Karamt Ullah is the president of Helpful Organization for Special Talent (HOST) based in Quetta. He told Balochistan Voices about the behavioral issues that ail this society when it comes to the treatment of special persons. He says that the behavior of the family members with the disabled persons is also pathetic in many cases, adding that they are called with certain degrading names or left without care to languish at a corner in home. He stressed the need of special education for the special persons.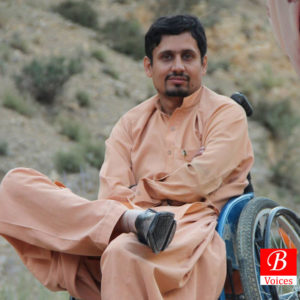 When asked if there were some schools catering to the needs of special persons, he said that there are schools in Quetta, Sibi, Khuzdar and Turbat but are not enough. He also raised the issue of accessibility, saying most of the buildings in Balochistan are not accessible, making it impossible for the disabled persons to even enter them. He said that if the building code 2006 is implemented, many issues of the disabled persons in terms of accessibility can be addressed but that is not seen implemented anywhere. He also stressed the need of establishment of psychiatry schools, saying he had witnessed seeing mentally retarded persons being admitted to a vocational centre in Quetta. This reflects the family behavior and attitude towards disabled persons.
The Number of Special Education Institutes in Balochistan are 7 in total. Three of them are located in Quetta which include Complex for Special Education Quetta, Institute for Physically Handicapped Children, Near GSP Saryab Road Quetta, Vocational Training Centre for Disabled, Satellite Town Quetta. One is located in Sibi, namely Bolan Special Education Complex for (MRC). Sibi. Two are located in Khuzdar that include National Special Education Complex, Khuzdar and Vocational Training Centre for Disabled, Khuzdar, and one in Turbat, namely, Model Centre of Inclusive Education for H I C Turbat (Kech) Project.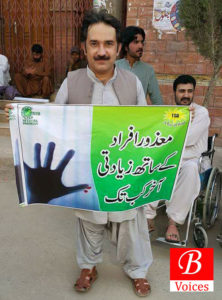 Zia Khan is founder of Quetta Online group of volunteers and a PWD activist. He told his comments to Balochistan Voices in the form of following video:
Abdul Sattar is a civil society member and human rights activist based in Balochistan. Talking to Balochistan Voices, he says as far as accessibility issues are concerned, ramps are almost non-existent in all the official buildings of Balochistan. He said that there were almost 0.3 Million disabled persons in Balochistan but the resources with Social Welfare Department are meager, adding that it is a neglected department, adding currently the Orthopedic, Prosthetic and Psychiatry Centre (OPPC) in Balochistan is providing services not only to the disabled persons but also to the special person hailing from Afghanistan.
He said that demand for disability supporting devices is too high but supply is far below the need. He said that Social Welfare Department Provides tricycles to the disabled persons but the procedures of it too are complicated, adding the disabled person have to submit their applications to the Chief Minister House and later an approved list arrives from CM House along with grant, to provide the tricycles to the approved list.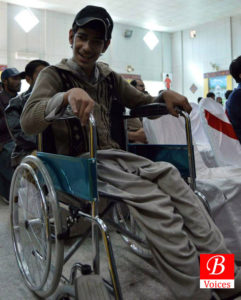 Abdul Sattar also lamented about the behaviourial issues in the society towards disabled persons, adding that Social Welfare Department has no funds to launch media campaigns or use other awareness tools to sensitize society about the rights of special persons, adding an equitable society and equitable treatment would solve many issues relating to special persons.
Sher Ahmed is an Assistant Director at Social Welfare Department Balochistan who talked about the legislative aspect of the issue, adding that The Balochistan Disability Bill has been submitted to the standing committee of Balochistan Assembly which may shortly be tabled and approved by Balochistan Assembly. He told Balochistan Voices that the bill includes 4 chapters which stretch upon the definitions, rights and establishment of a counsel and a chapter of miscellaneous, adding that this Bill, if approved would repeal and replace the 1981 ordinance.
He said that once the Bill stands approved, it shall guarantee the Right of Accessibility, Right of Expression of Opinion, Right of Mobility and Right to participation in politics and sporting activities.
To materialize the above mentioned goals, he said that the Counsel that shall be established under the Bill would ensure funding through Endowment Funds, Taxes and Penalties collected by the Government in violation of these rules.
Employment quota of disabled persons is not implemented which otherwise could reduce many woes of disabled persons – Noor Shahwani
Noor Shahwani is a special person serving in Excise in Taxation Department Balochistan as Office Assistant but getting that job was no less than a long duel for him as he was denied the job initially under the disabled person quota and later had to appeal to Court. He told Balochistan Voices that once the Court had decided in his favour, even then, many were reluctant to heed to the decision of the court. He said that the employment quota of disabled persons is not implemented which otherwise could reduce many woes of disabled persons.