Adnan Aamir
Quetta: Balochistan government will present a budget of Rs. 325 billion for the fiscal year 2017-18. The budget contains Public Sector Development Programme (PSDP) of Rs. 86 billion which is highest in history of the province.
These figures were revealed in a pre-budget Seminar 2017-18 by Government of Balochistan with Support of European Union (EU) and Public Financial Management Support Programme (PFM-SP).
Sardar Aslam Bizenjo, Advisor to Chief Minister on Finance, was the chief guest of the program. He said that it's a misconception that development funds lapsed or surrendered go back to federal government, as claimed by media. He said that the pre-budget seminar is a part of exercise of government to share everything with public and not hide anything.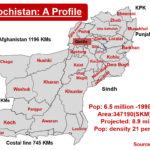 Akbar Durrani, Secretary Finance, delivered a presentation on the overall financial aspects of the budget. He said that two major functions of state are tax collection and Law and order and other functions depend on the effectiveness of these functions.
He told the participants of the seminar that total outlay of the budget is Rs. 325.238 billion out of which 239.227 would be spent on non-development and 86.011 billion would be spent on development.

Revenue of the government for the next budget is expected to be Rs. 276.317 billion and 202.691 from that will come from the Federal Divisible Pool. This is will result in a deficit of Rs. 48.867 billion in the budget.
Durrani further revealed that total education budget will be Rs. 52.149 billion out of which Rs. 44.371 would be spent on non-development and 7.778 billion would be spent on Development side.
Government has earmarked Rs. 33.068 billion for law and order, 2 Billion for Rekodiq and Rs. 10 billion for establishment of Balochistan Bank. Government will spend Rs. 130.417 billion on salaries and allowances of the government employees.
In forthcoming NFC negotiations, Balochistan will demands 1% extra share of Federal Divisible Pool due to damages caused by war in Terror, just like KP – Akbar Durrani
Highlighting the problems caused by vast land area of Balochistan, Mr. Durrani said that in the next fiscal year Balochistan will have the lowest amount spent on development of per square kilometer. Balochistan will spend Rs. 247,735 on per square Kilometer while Khyber Pakhtunkhwa (KP) will spend Rs. 2,791,160, Sindh Rs. 2,441,686 and Punjab Rs. 3,092,357.

Finance Secretary also announced that in forthcoming NFC negotiations, Balochistan will demands 1% extra share of Federal Divisible Pool due to damages caused by war in Terror, just like KP.
Dr. Umer Babar, Additional Chief Secretary (ACS) Planning and Development (P&D) department delivered a detailed presentation on PSDP. He revealed that till 10th June 44% of PSDP of 2016-17 has been utilized and till 30th June 52% PSDP would be utilized.
Highlighting the priority sectors of the PSDP, he said that Public Health and Engineering (PHE) will get 24.43%, Communication will be 15.39% and Education will get 10.93% of the total PSDP. "Rs. 6.011 Billion will be provided for PSDP under Foreign Project Assistance," He said.
In PSDP, 60% of funds will be allocated for the ongoing projects whereas 40% of the funds would be allocated for the new projects.
An interesting thing revealed by the ACS was that an Expressway would be built from Meezan Chowk to Sur Pul in Quetta at a cost of Rs. 14 Billion where provincial government will contribute Rs. 500 million and rest will be contributed by Federal government. A portion of this expressway would be built over the Habib Nallah in the form of an elevated expressway at a cost of Rs. 4 Billion.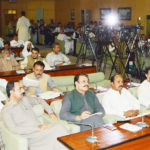 Zamaruk Achakzai. Deputy opposition leader in Balochistan assembly, said that Quetta, a small city, can't be developed despite availability of huge amount of resources and this is a huge failure of the government.
Sarfraz Bugti, provincial Minister for Home and tribal Affairs, said that development is always dependent upon the security situation. "Development is not uniform in any part of the country due to its colonial legacy," added Mr. Bugti.
Abdul Rahim Ziaratwal, Provincial Minister of Education said that government has to work on Human Resource Development for development of our province.
Dr. Hamid Achakzai, Provincial Minister for P&D claimed that Capacity of institutions is zero and we have to improve this.
Budget of Balochistan government for the fiscal year 2017-18 would be presented in Balochistan Assembly on 15th June.
Liked this story? Balochistan Voices is a non-profit, and we depend on readers like you to drive our public-interest journalism efforts. Click Here to Support.