Yahya Reki
Quetta: Based on the observations of Judicial Commission on 8th August bombings and direction of Supreme Court, Balochistan government has made Trauma Center in Sandeman Provincial Hospital an autonomous body.
This decision was announced in a notification issued by Health department of Balochistan on Saturday.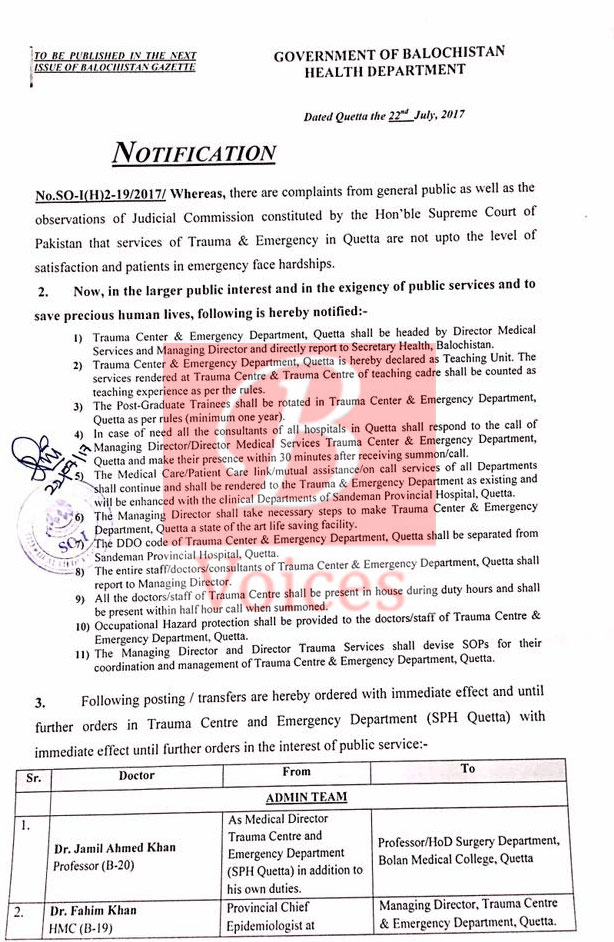 Dr. Faheem Khan (HMC) (B-19) has been appointed as a Managing Director of Trauma Center and Dr. Azeemullah Babar Ullah Senior surgeon has been appointed as Director Medical Services Trauma Center.
Health department has also posted 7 Administrative officers, 14 surgeons, 5 neuro surgeons and 5 bone and joints specialist doctor's in Trauma center who will perform duties in case of any untoward incident.
Trauma center is also declared as teaching unit where Post Graduate Trainees will be rotated after one year.
Trauma center became the center of debate after August 8th attack on lawyers in SPH. Sources claimed that life of several lawyers could have been saved if the Trauma center of SPH was functional at the time of attack.
Header photo courtesy: Dawn.com