Adnan Aamir
Balochistan Voices was established on 20th February 2016 to highlight the issues of Balochistan province of Pakistan which did not find a place in mainstream media. The idea behind Balochistan Voices was to use the medium of the internet to share the journalism content. As an online media organization, Balochistan Voices has a direct vested Interest in the Internet. An open internet which is accessible to everyone is what Balochistan Voices requires to thrive as a media organization. Therefore, attending Mozfest 2017, self-proclaimed World's leading festival for the open Internet movement was an amazing experience as Editor of Balochistan Voices.
What's Mozfest?
Mozfest, short form for Mozilla Festival, is an annual festival which focuses on the open internet. Organized by Mozilla Foundation, Mozfest is held every year in last week of October since 2010. First Mozfest was held in Barcelona, Spain and from 2011 onwards Mozfest is held in Ravensbourne, London. Right after the first festival, it was opened to digital media, welcoming journalists and newsroom coders into the fold.
Activities which affect the daily lives of people are dependent on internet and disruption of internet connectivity in any form can wreak havoc in daily lives
Mozfest is based on the idea that in today's world Internet has become an inevitable necessity. Activities which affect the daily lives of people are dependent on internet and disruption of internet connectivity in any form can wreak havoc in daily lives. Therefore, realizing the importance of a healthy and open internet is important and needs to be reiterated on regular basis. Based on this idea Mozfest brings together hundreds of people from around the world to ostensibly work for an open internet.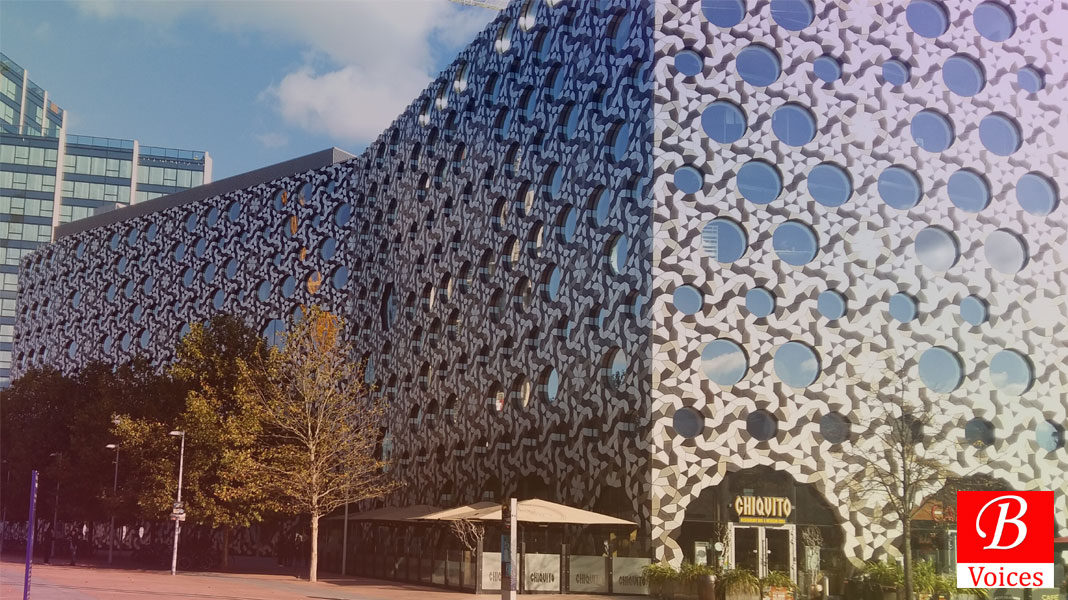 Attending Mozfest 2017
Mozfest 2017 was held from October 27th to 29th in Ravensbourne, London, UK. According to the figures provided by the communications team of Mozfest 2,000 people from more than 50 countries participated in the festival. 330 sessions were organized which were facilitated by 651 facilitators. Apart from that 19 speakers from 9 countries also spoke in exclusive sessions of the festival which supported 9 languages.
Participants and facilitators of the festival shared their experiences and photos on social using the hashtag #Mozfest which was used 9,607 times. Over 10,000 tweets were posted from around the globe which contained the words "Mozfest" or "Mozilla Festival."
Journalism in Mozfest
I participated in Mozfest as one of the facilitators who facilitated sessions on journalism. There were 9 journalism related sessions in the Mozfest which were facilitated by 13 journalists altogether. Open News which connects a network of developers, designers, journalists, and editors curated a themed track of journalism sessions for Mozfest.
Preparing for the Sessions
On the morning of 27th October, the preparations for the Mozfest kicked off with the orientation meeting of the facilitators. The organizers introduced themselves and provided basic guidelines to facilitators on how to facilitate the sessions in the best possible manner.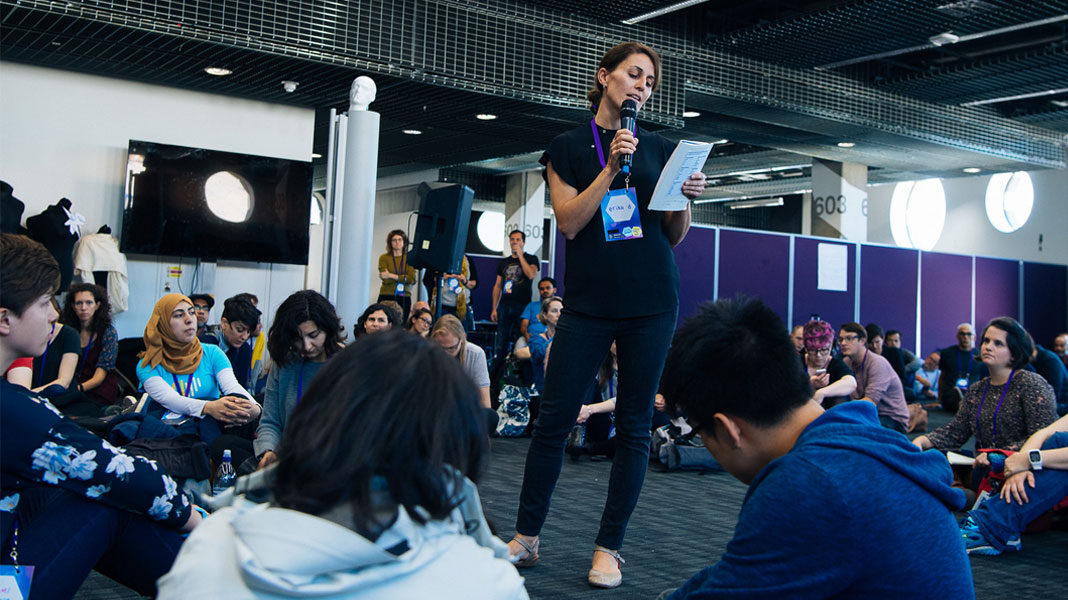 During the orientation session, the organizers kept on asking the facilitators to indulge in conversations with those whom they don't know. They wanted the facilitators to get to know new people and build professional connections which can be really useful for the facilitators and ultimately for open internet movement.
Moreover, participants were grouped according to their thematic area such as Digital Inclusion, Web literacy, and open Innovation etc. Space wranglers of each theme provided basic housekeeping information to the facilitators on conducting the sessions.
After that majority of the facilitators got busy in the interesting activity of posters making for their sessions. Those who had creative skills with posters ended making really cool posters whereas others like me just wrote down about our sessions on charts.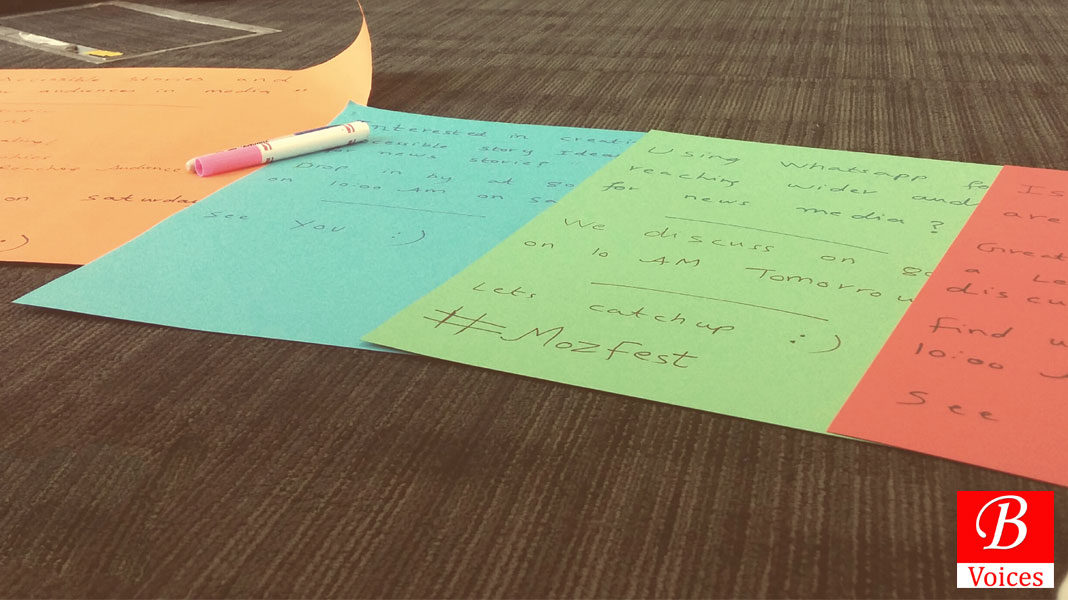 Then there was competition to find the best places to paste the posters such as on sides of the elevator on the ground floor, the pillar on ground floor where everyone had to pass and so on. I was lucky enough to find some good places for posters of our session which was scheduled for 10 AM on 28th October.
Session on Accessibility in Media
I co-facilitated a session on "Creating accessible stories and reaching new audiences in media," along with Joanna S. Kao from Financial Times New York.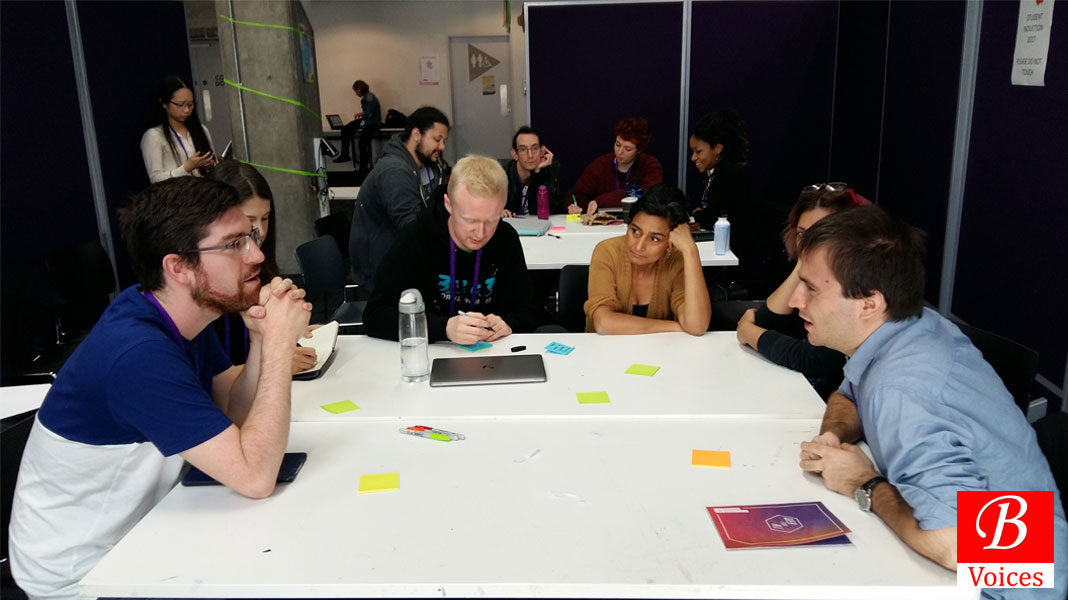 Participants of the session discussed internet connectivity issues, youth accessibility and graphics and content production. They discussed the challenges faced in these areas and also offered solutions.
Participants suggested that media websites should make their content available for offline downloads which can be downloaded by internet users with bandwidth problems whenever they are able to connect to the internet. One participant suggested that news websites and apps should develop their lighter versions which should not consume high bandwidth and therefore easy to access.
It was agreed by the participants of the session that Accessibility in media stories should not be an afterthought.
Other sessions
Facilitators were at liberty to attend sessions anytime except for when they had to conduct their own session. I managed to attend quite a few interesting sessions and missed many due to time clashes.
There was one session on fake news which was very interesting and informative at the same time. We learned in the session that fake news can be effective if it has certain elements. These elements are emotional appeal, veneer of authority, Effective insertion point online and Amplification network. After that, all participants were divided into groups and asked to develop a fake news and devise a strategy to make it effective. Interestingly, the groups produced really good fake news ideas. This suggested that producing fake news and spreading it is not difficult but stopping it is extremely difficult. Participants of the session agreed that there is no short-term solution for combatting fake news. In long term, it can be prevented by starting fake news literacy programs and publishing list of proven fake websites etc.
Another session that I attended was about what's opposite of a troll?  In a world where social media has become a part and parcel of life, the word troll is something that everyone is familiar with. However, it's interesting to debate than what is the opposite of a troll? The idea behind this session was to work on ideas to combat online trolling by identifying what's opposite of a troll. Participants of the session came up with different names such as start, friendly etc. However, the debate still continues.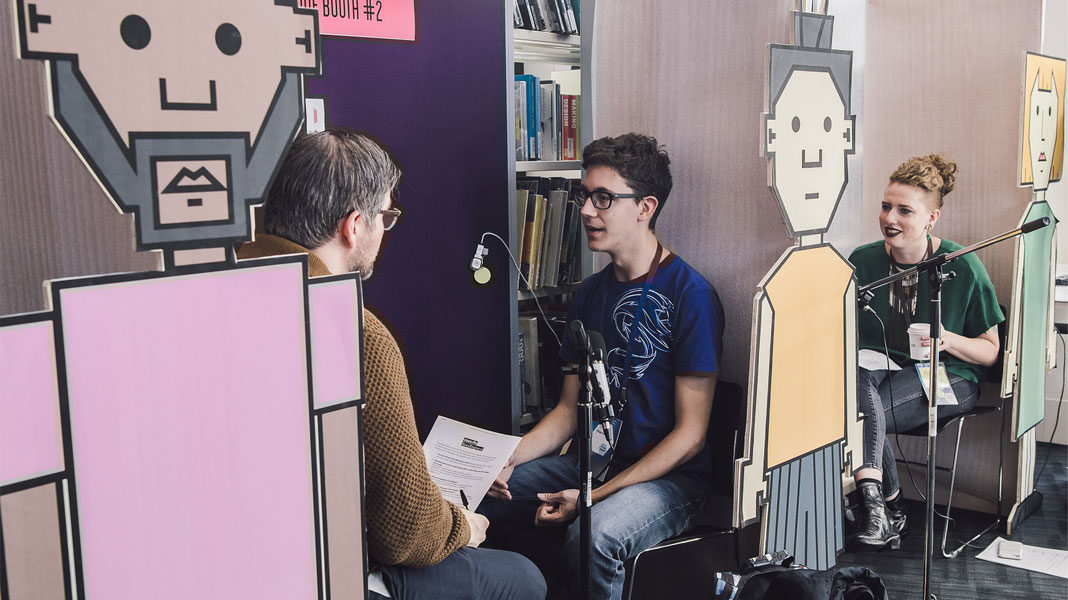 One of the interesting experiences of Mozfest was to attend the Humans of Internet gallery. Facilitators of this gallery conducted short interviews with the participants and developed an avatar graphic for them based on their responses. I also got an avatar just like dozens of other people who attended this wonderful gallery.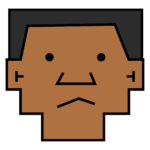 The Idea behind Mozfest
In order to understand about Mozfest and its level of success, Balochistan Voices talked to Sarah Allen who is Executive Producer of Mozfest.
Sarah Allen explained that Mozfest is an opportunity to connect people with networks who are working on something related to the internet. She elaborated that Mozfest is the platform where internet and communication related local issues of different countries are presented and they get global outlook. That makes it easy to find solutions to those problems. In reply to a question about what Mozfest expects from facilitators, Allen said that facilitators are expected to come up with sessions which are collaborative and generate interest among participants. She further explained that each year the design of Mozfest is changed based on the feedback received in the last Mozfest.
Gains from Attending Mozfest
Attending Mozfest was not only a wonderful experience but there are a lot of gains from it for me. I get to know a lot of new things about the open internet and the threats that it's facing. My whole experience at Mozfest renewed my resolve to work for the open internet in my capacity. Apart from that I got the chance to meet new people from all over the world and was able to develop professional bonds with some of the people which are going to be mutually beneficial. It was due to Mozfest that I was introduced to interesting platforms such as Voice Magazine, Journalism.co.uk and Factual Democracy Project. These are very useful resources for journalists and those who are committed to online journalism. Plus, I got to know about a lot of new opportunities and avenues for collaborations that can enhance the scope of Balochistan Voices.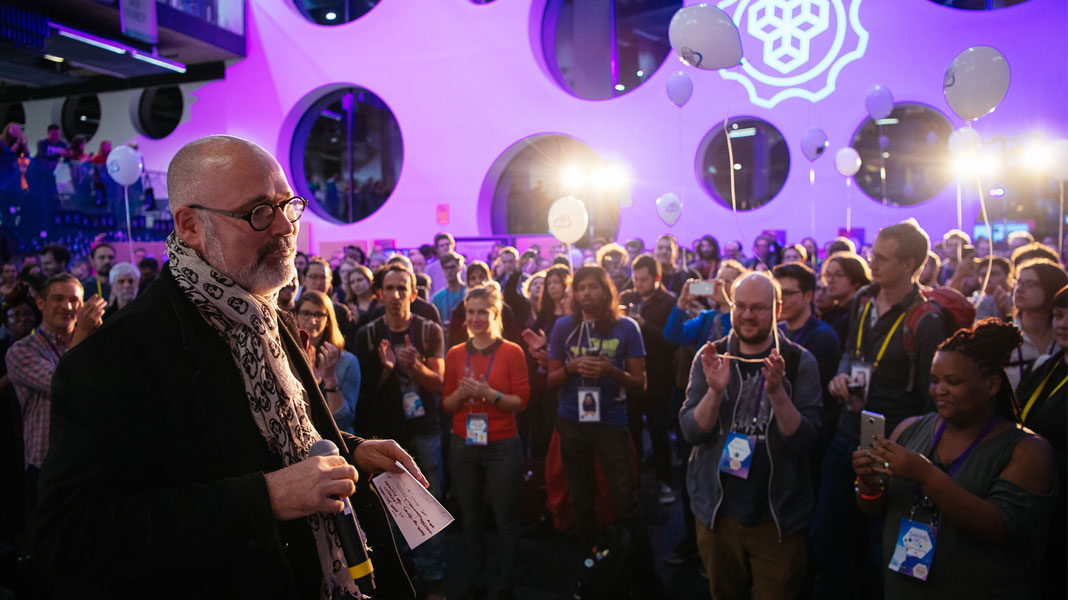 Lastly, based on my experiences and learnings at the Mozfest, team Balochistan Voices has decided to include campaigning for a Healthy and Open Internet as one of our core values.