Cultural Dresses are Identity of the Nations. Balochi female embroidery traditional dress is one of the art and learning mark of Balochistan. Baloch embroidery ornaments, needlework dresses are very forceful and good-looking in International Markets. The attractive and soft needlework increased its demand with higher prices. It is always a good source of income generation for the household women.
The wise dress is named "Poshak" in Balochi language. Baloch female dresses are very greatly respected in different cultures.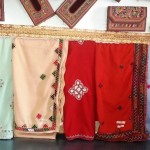 The local females who are dependent On Embroidery field to generate an Income for their economic Support in Balochistan, told Balochistan Voices that "It is very hard and time consuming work to produce Balochi female embroideries traditional dresses." A single Balochi dress takes 3 to 9 months to complete. The price of dress varies from design to design, ranging from 2,000 to 80,000 rupees.
Balochi embroideries dresses are named as Arif-e-chadar, Dil-o-bitab, Gad-o-band, Chandan-o-haar, Jallar, kantolo, kundi Gul, Arabi Chandan, Copsasar Molido and Sormor. These dresses have a very great value inside country as well as over-seas, especially in Gulf countries. Due to lack of proper marketing mechanisms, Balochi embroidery products remain hidden from the eyes of global market; otherwise this art can be a very lucrative industry.
Due to lack of proper marketing mechanisms, Balochi embroidery products remain hidden from the eyes of global market
Most Baloch young girls like to wear embroideries in bright colors such as, pink, green, orange, yellow etc and older women like to wear dark colors as, blue, black and brown.
Mr. Zubair Ahmed Rodeni, a Local Cultural Dress Sailer, said that "most striking features of Balochi dress is that women's way of dressing is the hand-made embroidery covering the front of the dress and end of arm of clothing of the arm parts, edges and as well greatly sized upright triangle form pocket." The Balochi traditional dress, which involves the use of threads with unfading colors, beads and tiny mirrors, has been passed down for many generations. The girls and women of the Baloch create extremely complex designs in a random manner using the creative thoughts of their brain. They are guided by the family members and elders, who are already into the business.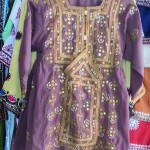 Mr. Rodeni further added that the towns of Balochistan, where such kind of embroideries are made include Makran, Kalat, Mastung, Nushki, Chagai, Kohlu, Dera Bugti, Sibi, Jhal Magsi and Khuzdar.
People involved in the promotion of Balochi embroidery urge Balochistan government to release funds to promote the Balochi Embroideries in Pakistan and world-wide.