Nushki: One day workshop on Conflict Sensitive Journalism was held in Nushki under the auspices of Individualland, on Friday.
Shahzada Zulfiqar, President of Quetta Press Club and senior journalist, was the trainer in the workshop and trained the journalists on reporting conflict sensitive issues.
Journalists from Nushki, Chagai and other adjoining district attended the training workshop.
"Journalists should pay attention to both sides of the story in conflict situation and report it impartially," said Mr. Zulfiqar.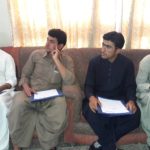 He also urged the journalists attending the training to confirm the facts before reporting on any sensitive issue.
"Balochistan is a conflict zone and journalists have to be extra-cautious in their reporting," said Mr. Zulfiqar.
Mr. Hashim Kakar, provincial coordinator of Individualland, was also present on the occasion. He apprised the participants about Individualland and the work which it does on Journalism.