Quetta: Government of Balochistan was urged to protect the vulnerable journalist community in a seminar held to commemorate Martyrs of Journalism day, on Sunday.
A seminar was held in Quetta Press Club on 2nd death anniversary of slain journalist Irshad Mastooi, which has been declared as Martyrs of Journalism day.
Speaking at the seminar, Afzal Butt former President of Pakistan Federal Union of Journalists (PFUJ), said that Journalists will keep on giving sacrifices for highlighting the truth.
He also urged news channels to develop a SOP for coverage of bomb blasts to avoid harm to reporters and cameramen.
Shahzada Zulfiqar, President of Quetta Press Club (QPC), revealed "In Balochistan 42 journalists have been killed and 25 of them have been target killed." He added "We will help the full-time journalists from the Rs. 200 million journalist welfare fund."
In Balochistan 42 journalists have been killed and 25 of them have been target killed – Shahzada Zulfiqar
Hammadullah Siapad, President of Balochistan Union of Journalists (BUJ), lamented that government is willing to pay compensation to heirs of 14 out of 27 slain journalists in Balochistan and we want all of them to get compensation.
Anwar Sajidi, Chairman of Editor's Council, said that BUJ must take all journalists of the province in confidence to strengthen its position. "Newspaper owners have always exploited journalists and this trend should end now," said Mr. Sajidi.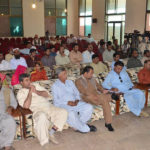 Saleem Shahid, bureau chief of Dawn News and former Vice President of PFUJ, paid tribute to the slain journalists and told the participants that safety training is being imparted to journalists so that they can save their lives in case of danger.
Representatives of newspaper distributors, hawkers and journalists from remote areas of Balochistan also attended the seminar.
Note: If you have found an error in this article or a factual inaccuracy or just want to give general feedback then feel free to contact us at editor@balochistanvoices.com