Hub:  Balochistan National Party (BNP) supremo, Sardar Akhtar Mengal and head of Balochistan Awami Party (BAP), Mr Jam Kamal filed separate applications here on Friday at Additional District and Session Judge requesting District Returning Officer (DRO) a delay in announcement of official result of NA 272 Lasbela-cum-Gwadar until their reservations were addressed.
Sardar Akhtar Mengal and Jam Kamal approached the DRO and requested him to hold the official announcement until their reservations were addressed. Both leaders filed applications for a delay in the official announcement in the result, however, their reservations differed.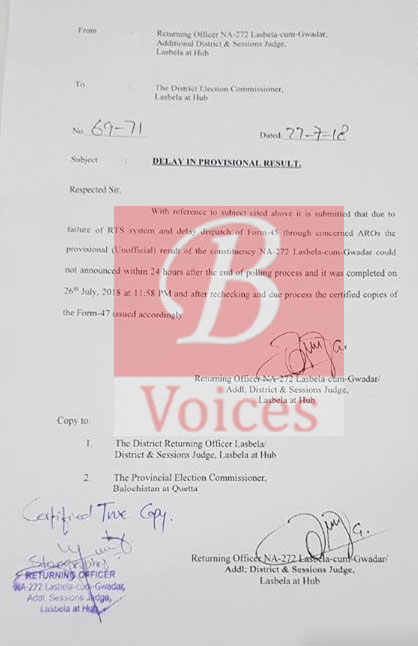 Mr. Jam Kamal requested in his application that 10,000 rejected votes from different polling stations of his constituency should be rechecked and recounted. On the other hand, Sardar Akhtar Mengal of BNP filled application requesting to look into the issue of delaying in result announcement and delayed provision of form 45 to polling agent. Furthermore, the application also mentioned recounting of the votes vis a vis revivification of casted votes through biometric method.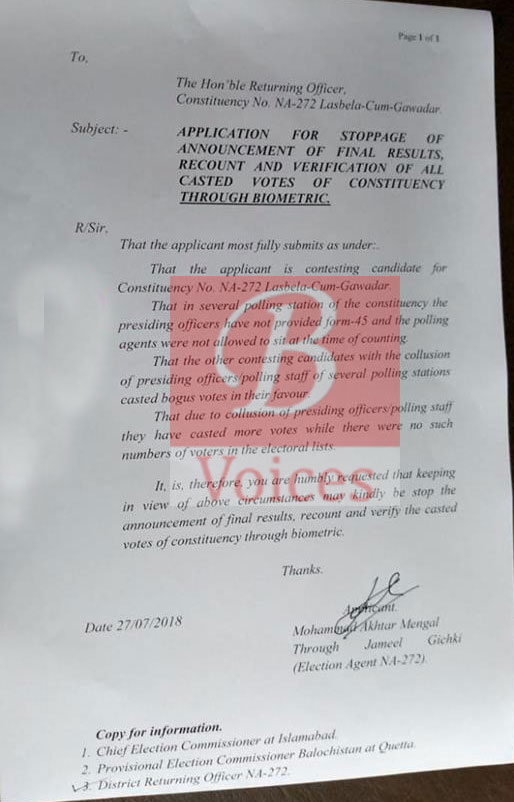 'We have filed an application to request DRO to put the official result on delay because we have reservations that the form 45 was not provided to polling agent in time rather it took 24 hours to announce the result whereas as per the Election Commission of Pakistan result should be announced within 3 to 4 hours after polling ends,' complained Mr Jamil Gichki, polling agent of BNP for Lasbela-Gwadar and senior party worker while talking to Balochistan Voices.
Mr Jamil said that his party (BNP) had demanded through the application that three issues should be looked into, however, the two of the demands were accepted and the request for recounting votes was rejected. For the biometric verification of the votes which were cast, he said, a tribunal would be formed which would look into the matter later on.
NA 272 Lasbela-cum-Gwadar is one of the largest constituencies which has a total number of 356,879 registered voters. According to the unofficial results Mr Aslam Bhootani, former speaker Balochistan Assembly fought independently for NA 272 and remained ahead with around 68804 votes while leading BAP's supremo Mr Jam Kamal with a lead of 5729 votes. On the other hand, Mr Kamal retained the second position with accumulating 63275 whereas Mr Akhtar Mengal could secure the third position with 41866 votes.
The cut-throat competition between three supremos gave a taste of great zeal to the supporters. But the delay in result announcement also caused the supporters to resort to whispering some 'conspiracy theories' as well. Nevertheless, later on ECP's clarification about the delay that presiding officers were facing problems in filling RTS forms restored satisfaction among supporters. At the same time, social media seemed abuzz with posts of supporters of all three parties claiming a great win on each other until the unofficial result came at fore.